Food Show, Santa Monica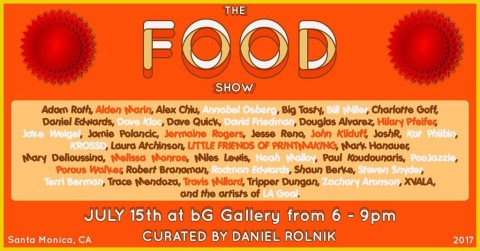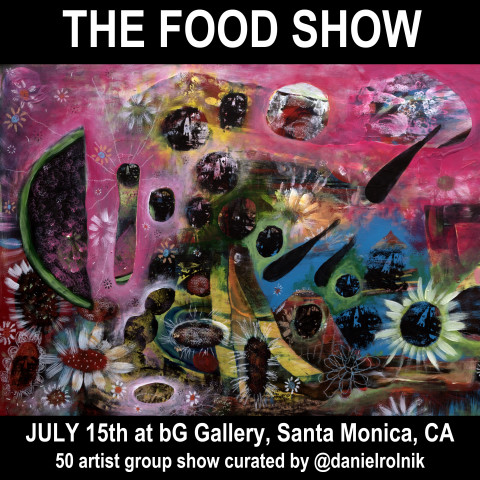 Opening reception JULY 15th at the bG Gallery from 6 – 9 pm.
The World's Most Adorable Art Critic, Daniel Rolnik, has curated a group art show dedicated to food.
"The Food Show" includes the following 50 artists: Adam Roth, Alden Marin, Alex Chiu, Annabel Osberg, Big Tasty, Bill Miller, Bradford J Salamon, Charlotte Goff, Daniel Edwards, Dave Kloc, Dave Quick, David Buckingham, David Friedman, Douglas Alvarez, Eva Lacey, Hilary Pfeifer, Jake Weigel, Jamie Polancic, Jermaine Rogers, Jesse Reno, John Kilduff, Joseph Remnant, JoshR, Justin Decou, Kat Philbin, KROSSD, L.A. GOAL, Laura Atchinson, LITTLE FRIENDS OF PRINTMAKING, Mark Hanauer, Mary Delioussina, Mayon Hanania, Melissa Monroe, Mike Boston, Mike Egan, Miles Lewis, Nancy Larrew, Noah Malloy, Dr. Paul Koudounaris, PooJazzle, Porous Walker, Robert Branaman, Rodman Edwards, Sarah Stone, Shaun Berke, Steven Snyder, Terri Berman, Trace Mendoza, Travis Millard, Tripper Dungan, XVALA, and Zachary Aronson.
"I feel blessed to be able to work with artists of all ages, genders, religions and races. This exhibit is truly an unprecedented egalitarian art experience." says curator, Daniel Rolnik. "It's truly breathtaking!"
All of the artists in this show were chosen because of the light-bearing and healing qualities that emit from their work. Though, invisible to the naked eye, Daniel has become adept at recognizing these subconscious actions through careful observations made at his dinner parties. The food and acts of eating depicted in the paintings, sculptures, tapestries and more are containers from which good vibes will travel and ultimately make their way through the digestive system of guests to the exhibit.