Online Art Critiques Now Available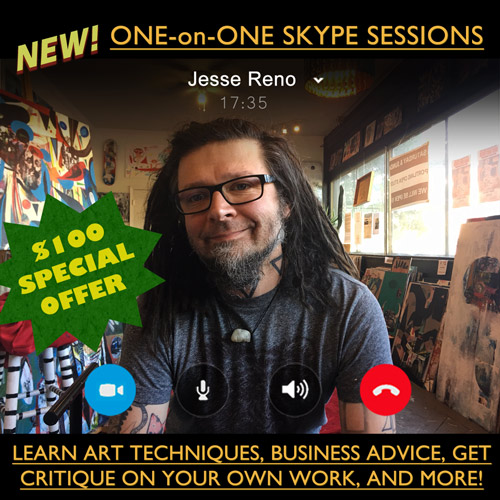 I am now doing online art critique sessions for $100.
They are available here..
http://jessereno.com/piece/3504/skype/
45 minute Skype/ Phone Sessions – critiques
during these sessions I will critique 3 works in progress or finished, offering my input and ideas. Ill help you find direction within the pieces as well as work out any color, or composition problems. I often answer questions with questions to help you find what you are looking for or hoping to express within your work. All art is subjective but I will help you move towards finding purpose and connection in your art as well as work out the sticking points or distractions that are holding you back from feeling final within your pieces.
My knowledge can be applied to all styles of art work, this session will be beneficial to any type of creator.
I will also take questions about the art business, carer decisions or feel free to reach out with other ideas.
Please email me at jesse@jessereno.com to check availability and setup time/ date for critique, let me know weather you prefer Skype or phone both are done audio only to avoid visual distractions and so we can focus on the conveying information and knowledge.
Once we have scheduled I will have you send 3 pieces and 3 questions so I can review prior to our session so we can use our time most efficiently.
http://jessereno.com/piece/3504/skype/