Thursday, October 6th, 2016
This Friday, Saturday, Sunday you are invited to come to my studio.
FRIDAY
Opening reception for "Everything" by Jesse Reno
Friday, October 7th from 6-10pm
True Measure Gallery
3022 E Burnside st, Portland, 97214
LIVE music set performed by Jesse, drinks and snacks
Everything – an all encompassing exhibition including paintings, photographs, drawings, short films, and musical compositions created by Jesse Reno a full time artist in Portland for the last 12 years. All new work from within 2016. this exhibit showcases the relationship of Reno's ideas inspirations and feelings that run across his work in all his mediums. Jesse Reno says his work is "An abstraction of time in ancient faces, viewed over a sound scape of fairy tales playing on record players tuned to black and white tvs. constellations and rainbows drawn like maps to the subconscious" Reno has recently been focused on creating drawings with markers this has shifted his style into further abstraction using shapes to create space and suggestions of faces hidden in stained glass over a white backdrop. Long time admires of Reno's work have compared his new style to famous artists such as Miro and Doppler Mobiles with a twist of graffiti and cubism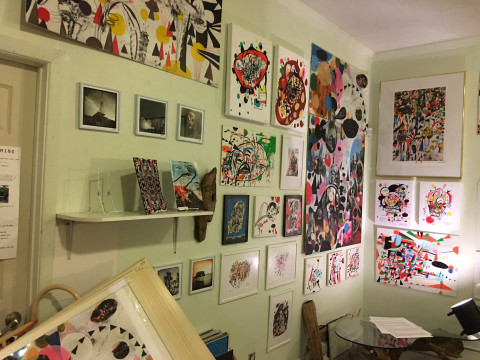 Saturday, Sunday October 8,9,15,16
This is will be my 5th year participating in Portland Open Studios.  My studio/gallery will be open from 10-5pm each day. (the next two saturdays and sundays)
Come see over 300 paintings, drawings, prints, books, shirts, skateboards.  I will be live painting during the tour and taking questions about my process.
Hope to see you there – 3022 E Burnside St, Portland, OR 97214
Also Melissa Monroe http://melissamonroeart.com/ will have our home studio open featuring her work.  Same days and times 9315 SE Market St, Portland, OR 97216
about a 10 minute drive from the studio
more info  –http://portlandopenstudios.com/
Here is a video I made of Melissa's studio!