Level 1 In-Studio Workshop "Freedom And Expression" - May 2018



Dates: May 17th - 21st (Friday-tuesday), 2018
Hours: 5 days 11:00am - 6:00pm with an hour lunch break in the middle of the day.
Price: $900 all supplies included.


location - 3022 E Burnside St, Portland, OR 97214
questions? email truemeasuregallery@gmail.com
contact studio ph 503 235 8549


10 students. First come, first served

To sign up pay the deposit of $200.00 to secure your space.
Payment can be made via check, paypal or money-order. You will receive an email confirming your spot soon after your payment is received.
If you are not paying via paypal please email the class registrar at truemeasuregallery@gmail.com to hold your space.
This 200$ reservation deposit is NOT REFUNDABLE. The remaining $700.00 must be paid in full 2 months before class (March 17th,2018) unless other arrangements are made.

You can use this paypal button to pay your deposit, final payment or make the payment and full.


Deposits and Cancellations

In the case of cancellations there will be NO REFUNDS made less then 2 month before class.. the 200$ hold deposit is NON-REFUNDABLE. If you can find a person to fill your spot, we can move them into your spot and you can get a refund of your deposit from your replacement student. email me at that time to work out the details.

Class Information

- The studio work area is aprox 1300 sqft, so plenty of space and individual attention. It doesn't get much better than this as we will be in my actual studio with all my supplies, artwork and things pretty much exactly as I like them.

-Friday, May 18th at 6:30pm, after the second day of class we will have a pizza dinner and drinks, my treat at Baby Doll Pizza just a few block from the studio. You may bring your partner or a friend to join us. This will give us all a chance to meet and get loose. There is Vegan and Gluten Free pizza available.

-There is a whole foods one block down the road from my studio and an abundance of restaurants, food carts, and local fare walking distance from the studio. There is a fridge at the studio to store food as well.

Supplies List

Everything needed for the workshop will be supplied by me. :)

Class Description



The following is an overview of my concepts and techniques on painting

Things to think about and remember..

This entire process is based on working in reverse, and out of time with our thoughts. This method forces us to learn to see. Meaning we see what is, rather than the idea of it. It's easy to get caught up with the ideas in ones head. We aim to learn that a plan is just a starting point at best, and it's always OK to change our direction. A rigid plan can confuse us with let downs and expectations. Just because things aren't going as planned doesn't mean they are going poorly. I've found in my past that sometimes even when things are working out better, it's easy to still be confused and frustrated based on the idea that things are not going as planned. Best to not look at the plan, but rather what's happening so we don't miss anything..

This class is not about painting a specific thing or outcome. It's more about how we create that is important. the techniques can be applied to any style of creation as well as living life.. by watching what happens we can see what is happening above expectations and thus make clearer decisions about the future.. changing direction rather than following a preconceived idea we came up with before any of the steps had taken place..

I like changing my mind. Especially when I don't like my first choice.. if somethings not working out it can often be far more productive to drop it and start over then forcing broken pieces together..

Once we realize this, our ability to learn becomes less painful and limitless. When mistakes are just encounters to be corrected, learned from, or left as the perfect accident, we learn not to fight or fear our actions. I like to use approaches that shouldn't work. This takes away our desire to expect immediate results. We expect less and get more. This brings us back to learning to see rather than expecting to see. This is crucial to opening us to new experiences, and in turn rewards us with unexpected results in the process. This will in time break down our ideas and fears of the unknown, allowing us to encounter new things with greater ease and less fear..

The truer we become with our desires the more we attain them.. finding what you want in yourself can be the hardest part. After this it's basically not giving up and pushing forward.. if we move in this manner we eventually get where we want to go. Frustration distracts us and pushes us back. Fun and excitement move us forward.. this is why I look for techniques and approaches that are stress free, physically and mentally fun.. constantly learning to try something new, look, see, wait, and then decide with a fresh eye what you really see.. it's amazing what a fresh look can show you.

Within this process it is the questions you ask yourself that are most meaningful. Let these guide your creativity and help you find what you're looking for. Learning to know your steps when you see them. Changing your mind and direction when needed.. make choices patiently, deciding what exactly is not working and what is, then move forward by eliminating what doesn't work with a new choice.. continue in the this manner and your work will inevitably move forward and work itself out organically and naturally. Overtime you will develop a style and techniques that are meaningful and very much your own.

By searching out meaningful directions and imagery you will maintain excitement and reward in your creations. It is meaning that creates the feeling of accomplishment.. we accomplish things that mean little to us every day and we don't recognize or care to remember them. It is the interaction with meaningful outcomes we remember. when we include this level of meaning and importance in our work, it becomes very powerful. We gain confidence in our work, as well as ourselves and even learn to see ourselves more clearly.

Learning by mistake is easier.

Using the wrong brush, hand utensil, etc is always a good idea. It insures low expectation - the reward of getting more than expected is very motivating. This will also force us to learn to look clearly and stop us from expecting to see something else. It's easy to overlook things when we have expectations. Using awkward utensils develops technique by default. Color inconsistency using small brushes for large areas creates diversity of color without even trying an organic active field is created effortlessly while blocking out we create depth and variation. In the opposite direction using a large brush for a small area forces us to be very focused. In time it breaks us from thinking everything needs to be so exact. It forces our details to come out loose no matter how tight we make them. After reviewing enough work created in this way it will be easy to see and understand that it's not so important or productive to be tense and exact when seeking to achieve something that is loose, fluid. More emotional than precise. Once you get over not doing what you expect you will see very free renderings of your intentions..

Mixing color. mixing color.. mixing color. You don't end up with variation of color without mixing. The quickest way to engage in this is on surface mixing. Dipping between two or three colors, mixing each time you go to get more paint, is a good idea. the colors will be similar, yet vary, keeping things from looking flat or drab. It's not necessarily a lot of extremely different colors that make things brilliant, it's a few with a lot of subtlty. To create distinct separation, use of opposites is always good.. For me it all breaks into hot against cold. red, yellow, orange, pink, against blue, or green.


Let me know if you have any questions, or want to sign up. Thanks for your support!


-----------

Click the image below to watch a video of the speech I gave about my art and career at the 2016 National Art Education Association convention in Chicago, IL...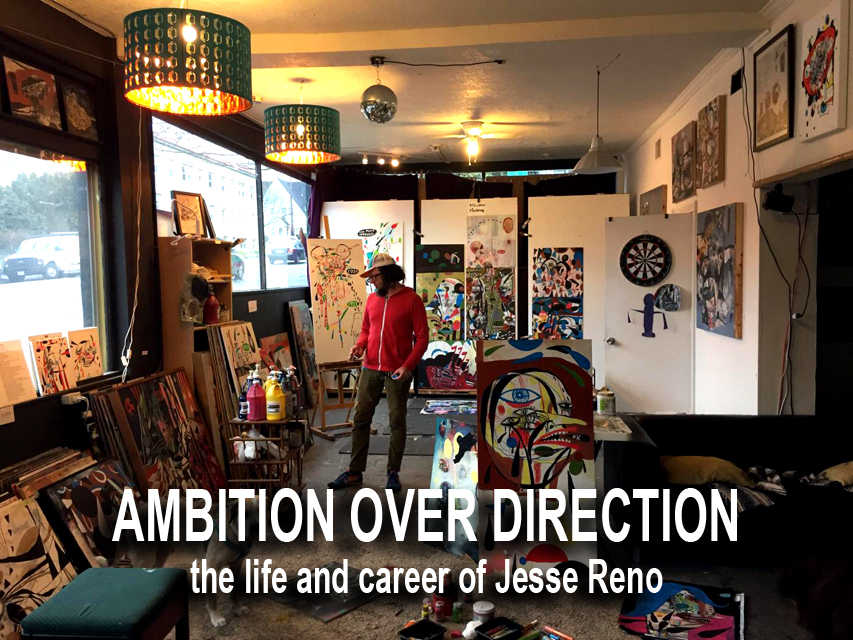 Visit my youtube channel to view more interviews and videos showing my process.
Link to Press
Link to resume and statement..
Link to site with over 2000 examples of my work.. updated every week...